Biography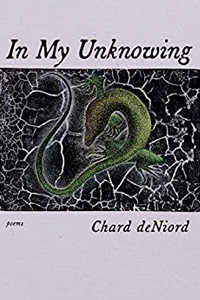 Chard deNiord is the author of seven books of poetry, including In My Unknowing, Interstate, and The Double Truth. His poems have appeared in several anthologies, including two Pushcart volumes, and he is also the author of two books of interviews with eminent American poets titled Sad Friends, Drowned Lovers, Stapled Songs, Conversations and Reflections on 20th Century Poetry. deNiord was the eighth poet laureate of Vermont from 2016 to 2019, and is Professor Emeritus of English and Creative Writing at Providence College.
Website: https://www.charddeniord.com
---
Event: Vermont Poets Laureate
A special gathering with Chard deNiord (author of six collections, including In My Unknowing) and Pulitzer Prize finalists Sydney Lea and Mary Ruefle, longlister for the 2019 National Book Award in Poetry.
Sponsored by the Davenport Fund
All sessions by Chard deNiord