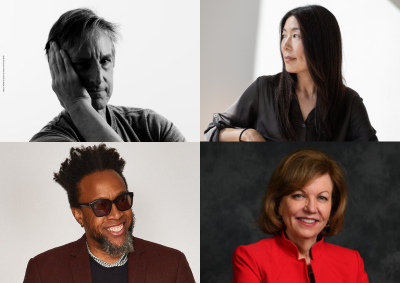 2023 Bookstock Festival of Words Announces Initial Speaker Lineup
In support of its theme, "Voices On the Village Green," three-day festival will feature free public conversations on key issues with renowned authors, poets and storytellers
Speakers announced today include: The New Yorker Satirist Andy Borowitz; two-time GRAMMY® Award-winning recording artist Speech Thomas; National Book Award and Pulitzer-Prize winning historian Joseph J. Ellis; USA Today Washington Bureau Chief and biographer Susan Page; #1 New York Times bestselling author Bill Gifford; Garrett Award for Fiction winner and environmental journalist Megan Mayhew Bergman; Kirkus Review Best Book award winner Emily Bernard; American writer and indigenous storyteller Joseph Bruchac; Oprah Pick and Maine Book Award bestselling author Susan Conley; former Poet Laureate of Vermont Chard deNiord; New York Times columnist Thomas B. Edsall; 2021 Vermont Book Award winner Melanie Finn; poet, Los Angeles Times columnist Jacques Leslie; novelist, biographer and critic Jay Parini; bestselling author and contributing editor to Vanity Fair Jeff Sharlet; and New York Times bestselling author Ilyon Woo
Speakers include three current Vermont Book Award finalists: YA author Jo Knowles; Pushcart Prize Winning fiction writer Peter Orner; and critically acclaimed poet Bianca Stone
April 20, 2023, Woodstock, Vermont – Today the Bookstock board of directors announces that a diverse lineup of critically acclaimed, award-winning and best-selling writers of fiction, nonfiction, poetry, and song, are confirmed to speak at this year's Bookstock Festival of Words. Bookstock 2023 will take place on and around the Village Green in Woodstock, VT on June 23-25, 2023. The festival is free and open to the public, pre-registration is encouraged and opens May 1, 2023.
Speakers announced today include:
Andy Borowitz, one of the nation's leading satirists and author of 2022's Profiles in Ignorance: How America's Politicians Got Dumb and Dumber; New York Times best-seller The 50 Funniest American Writers; and #1 best-selling memoir An Unexpected Twist. He has written for The New Yorker magazine since 1998 and is creator of the world-famous satirical news column The Borowitz Report.
Speech Thomas, also known as Speech, the subject of 2020's award-winning documentary 16 Bars, and two-time GRAMMY® Award-winning founder and lead singer of the 4x platinum hip-hop collective Arrested Development.
Joseph J. Ellis, one of the nation's leading U.S. historians and author of 2021's The Cause: The American Revolution & Its Discontents, the Pulitzer Prize-winning Founding Brothers: the Revolutionary Generation, The New York Times best-sellers His Excellency: George Washington and Revolutionary Summer: The Birth of American Independence, and American Sphinx, a Biography of Thomas Jefferson, which received the National Book Award.
Susan Page, award-winning journalist and Washington Bureau Chief for USA Today, as well as author of the New York Times best-seller Madam Speaker: Nancy Pelosi and the Lessons of Power and The Matriarch: Barbara Bush and the Making of an American Dynasty. She is working on a forthcoming biography of broadcast journalist and television host Barbara Walters.
Bill Gifford, coauthor of the #1 New York Times bestseller Outlive: The Science & Art of Longevity with Dr. Peter Attia and author of The New York Times bestseller Spring Chicken: Stay Young Forever (Or Die Trying).
Jo Knowles, award-winning author of the middle-grade novels See You at Harry's, Still a Work in Progress, and Meant to Be, which is a finalist for the 2022 Vermont Book Award. She is also the author of the young adult novels Where the Heart Is and Read Between the Lines.
Peter Orner, Pushcart Prize winning author of two novels, four story collections and an essay collection that was also a finalist for the National Book Critics Circle Award. His latest work is Still No Word from You: Notes in the Margin, which is also a 2022 Vermont Book Award nominee.
Bianca Stone, author of four poetry collections, including the most recent What is Otherwise Infinite, nominated for the Vermont Book Award. Her poems, poetry comics, and essays have appeared in The New Yorker, The Nation, The Atlantic, Poetry Magazine, American Poetry Review, Brooklyn Rail and many others
Megan Mayhew Bergman, author and winner of the Garrett Award for Fiction winner, environmental journalist, and teacher who writes about the natural world and unusual women. Her latest book How Strange A Season, was longlisted for the 2023 Joyce Carol Oates Fiction Prize and The Story Prize, and was listed among the New Yorker's Best Books of 2022.
Joseph Bruchac, author and storyteller who writes about indigenous peoples with a focus on northeastern Native American and Anglo-American lives and folklore. He has written more than 120 books for children and adults, his most recent being Voices of the People
Emily Bernard, contributing editor at The American Scholar and author of Remember Me to Harlem: The Letters of Langston Hughes and Carl Van Vechten, which was a New York Times Notable Book of the Year. Her most recent book, Black is the Body: Stories from My Grandmother's Time, My Mother's Time, and Mine, won the 2020 LA Times Isherwood Prize for Autobiographical Prose.
Susan Conley, critically acclaimed author of five books, including her newest best-selling novel Landslide named a New York Times "Editor's Choice," a TODAY Show "Best Summer Read," a Vanity Fair "Book We Can't Top Thinking About," and a New York Times "Paperback Row" Best Paper Back Pick.
Chard deNiord, former Poet Laureate of Vermont, recipient of the Pushcart prize, and cofounder of the New England College MFA Program in poetry. He is author of five poetry collections and two collections of interviews with American poets.
Thomas B. Edsall, New York Times columnist on strategic and demographic trends in American politics who previously covered national politics for the Washington Post was the holder of the Joseph Pulitzer II and Edith Pulitzer Moore Chair at Columbia University's Graduate school in Journalism. HIs latest book is Building Red America: The New Conservative Coalition.
Melanie Finn, author of four critically acclaimed literary thrillers. Her most recent book, The Hare, won the 2021 Vermont Book Award. The Gloaming was a New York Times Notable Book of 2016 and The Guardian's "Not the Booker" Prize.
Jacques Leslie, author and journalist, who has won numerous awards, including the J. Anthony Lukas Work-in-Progress Award for his most recent book, Deep Water: The Epic Struggle Over Dams, Displaced People, and The Environment and the Sigma Delta Chi Foreign Correspondence Award for his reporting during the Vietnam War. A regular Los Angeles Times op-ed contributor, he now writes chiefly about the environment.
Jay Parini, poet, novelist, biographer, screenwriter, and critic, having written more than 20 books with his most recent work being, Borges and Me: An Encounter and which Ian McEwan called "a jewel of a work" and Ann Beattie described as "a road trip like no other."
Jeff Sharlet, New York Times and national bestselling author of The Family and C Street, and executive producer of the 2019 Netflix five-part documentary series based on them, The Family. His newest book is The Undertow: Scenes from a Slow Civil War
Ilyon Woo, New York Times bestselling author of Master Slave Husband Wife: An Epic Journey from Slavery to Freedom and The Great Divorce: A Nineteenth-Century Mother's Extraordinary Fight Against Her Husband, the Shakers, and Her Times. Her writing has appeared in The Boston Globe, The Wall Street Journal, Time Magazine, and The New York Times.
Bookstock's theme this year is "Voices On the Village Green."
"In putting together this year's program, we strove to create a diverse representation of voice, genre and interests, bringing together authors, writers, and storytellers in discussion with notable journalists, experts, artists and community leaders to create a dynamic and vibrant event," says Program Director, Elizabeth Wilcox.
Among the festival's speakers will be best-selling and critically acclaimed fiction authors, historians, biographers, memoirists, essayists, songwriters, and poets from across the region and the broader US. The festival is also an important event for showcasing the extraordinary talent of Vermont- and Upper Valley-based authors and storytellers. This year's festival is set to feature three nominees for the 2022 Vermont Book Award, Jo Knowles, Peter Orner and Bianca Stone.
In keeping with the festival's theme, sessions will range from the exploration of story and narrative to discussions of local and national concern, including political polarization, climate change, incarceration, mental health and aging.
"I've been involved in Bookstock since its inception, and I'm thrilled to say we've got our most exciting lineup to date," says Bookstock board member Peter Rousmaniere. "Thanks to our staff and partners, it's become one of the region's premier cultural events."
The full 2023 program will be announced in May and will include additional speakers, children's and family events, one of Vermont's largest used book sales, writing workshops, live music, and local excursions.
Founded in 2009, Bookstock's mission is to unite people in celebration of storytelling and the written word. Bookstock is organized by Bookstock Inc., a 501(c)3 nonprofit organization based in Woodstock, VT and supported by approximately 100 volunteers and local partner organizations including the Woodstock Economic Development Commission, Pentangle Arts, Norman Williams Public Library, Woodstock History Center, North Chapel, Marsh-Billings-Rockefeller National Historical Park, Artistree Community Arts Center, Thompson Senior Center, Yankee Bookshop, Mascoma Bank, Ottauquechee Health Foundation, The Center for Cartoon Studies, and the Pauline Davenport Children's Fund. Past Bookstock speakers include Julia Alvarez, Richard Blanco, Billy Collins, Ed Koren, Sy Montgomery, Valerie Plame, Richard Russo and Ocean Vuong.
For more information: www.bookstockvt.org
About Woodstock, VT: Founded in 1761 and described by Condé Nast Traveler magazine as one of America's most beautiful towns, Woodstock, Vermont is a historic New England village organized around a long, central village green. Downtown Woodstock has been named a "Great Place in America" by the American Planning Association.
###