Biography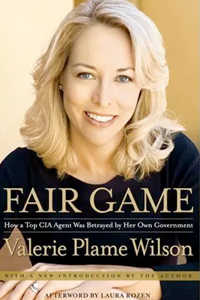 Valerie Plame is a former career covert CIA operations officer who worked to protect America's national security and prevent the proliferation of weapons of mass destruction, in particular nuclear weapons. During her career with the CIA, Valerie managed top-secret programs designed to keep terrorists and rogue nation states from acquiring nuclear weapons. Valerie is the author of the New York Times best-selling memoir Fair Game: My Life as a Spy, My Betrayal by the White House, which was made into a major motion picture starring Sean Penn and Naomi Watts.
Website: https://www.valerieplame.com
---
Event: In from the Cold
American writer, spy novelist, and former CIA officer Valerie Plame joins Robert Kerbeck, award-winning author of Ruse: Lying the American Dream from Hollywood to Wall Street, to talk leaks, sneaks, and other assorted spy stories. With an introduction by Pulitzer Prize-winning journalist and intelligence expert Thomas Powers.
All sessions by Valerie Plame