Biography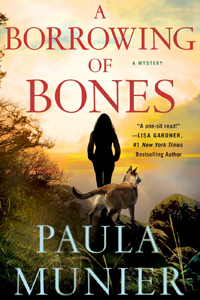 Paula Munier is Senior Agent and Director of Storytelling and Content for Talcott Notch Literary and the USA TODAY bestselling author of the Vermont-based Mercy Carr mysteries. A Borrowing of Bones was a Mary Higgins Clark Award nominee and won the Dogwise Book of the Year. The Hiding Place hit Lesa Holstine and Dru Ann Love's Best of 2021 Lists. The Wedding Plot—set in Windsor County—debuts July, 2022. Her nonfiction books include Plot Perfect, The Writer's Guide to Beginnings, Writing with Quiet Hands, Happier Every Day, and the memoir Fixing Freddie. 
---
Panel: How Mystery Writers Kill It.
Editor of Alfred Hitchcock Mystery Magazine Linda Landrigan, bestselling author/literary agent Paula Munier, and award-winning Edwin Hill, author (The Secrets We Share) offer tips on writing the perfect murder.
All sessions by Paula Munier