Biography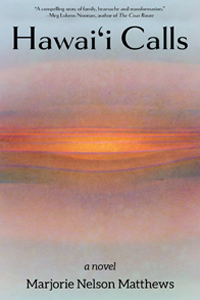 Marjorie Nelson Matthews was born and raised in Honolulu and graduated from Punahou School and the University of Hawai'i. She taught in the University of Hawai'i and the University of New Hampshire systems as well as at 'Iolani School in Honolulu. Hawai'i Calls is her first novel.
Website: https://marjorienelsonmatthew.com
---
Hawai'i Calls
Novelist Marjorie Nelson Matthews transports readers to 1930s and '40s Honolulu. With host Joni B. Cole, she discusses the book's thought-provoking themes from defying gender norms, to reinvention after loss, to the costs of being "different".
All sessions by Marjorie Nelson Matthews