Biography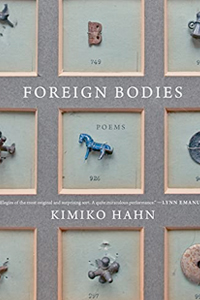 Hahn casts a wide net for subject matter. In her new collection Foreign Bodies, she revisits the personal as political while exploring the immigrant, the endangered animal, objects removed from children's bodies, hoarded things, and on. Previous books were prompted by fields of science; The Narrow Road to the Interior takes title and forms from Basho's famous journals. Honors include a Guggenheim Fellowship. Hahn is a distinguished professor in the MFA Program in Creative Writing & Literary Translation at Queens College, CUNY.
Website: https://www.kimikohahn.com
---
Session: A "Dinner Table" Dialogue with Kimiko Hahn and Harold Schechter
Married authors Kimiko Hahn (author of ten books of poems, including Foreign Bodies) and Harold Schechter (author of true crime best sellers, including the award-winning graphic novel Did You Hear What Eddie Gein Done?) in conversation about keeping it creative at home.
All sessions by Kimiko Hahn