Biography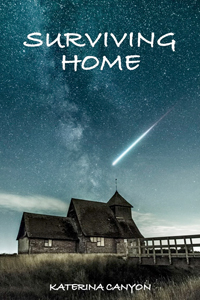 Katerina Canyon is a poet nominated for three Pushcart Prizes, essayist, and civil rights activist. Her stories have been published in The New York Times and HuffPost. Her first book, Changing the Lines, is a conversation between mother and daughter as they examine what it means to operate within the world as black women. Her book Surviving Home is a collection of poems that serve as a memoir of the trauma she experienced and overcame. Canyon has a B.A. in English, International Studies and Creative Writing from Saint Louis University and a Master of Arts in Law and Diplomacy from the Fletcher School at Tufts University.
Website: www.poetickat.com
---
Event: Surviving Home
Pushcart Prize-nominated poet and New York Times essayist Katerina Canyon reads from her latest harrowing collection. "…visceral and gripping … An often cathartic and poignant set of poems about endurance and the cycle of abuse," Kirkus Reviews.
Sponsored by the Davenport Fund
All sessions by Katerina Canyon