Biography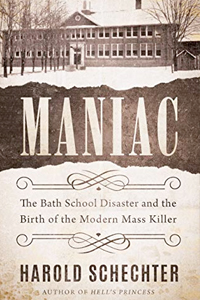 Among his more than forty published books are a series of historical true-crime narratives about America's most infamous serial killers, several encyclopedic works (The A to Z Encyclopedia of Serial Killers, The Serial Killers Files, Psycho USA: Famous American Killers You Never Heard Of), and an anthology of American true crime writing published by the Library of America.  His most recent book is Maniac: The Bath School Disaster and the Birth of the Modern Mass Murderer.
Website: https://www.haroldschechter.com
---
Session: A "Dinner Table" Dialogue with Kimiko Hahn and Harold Schechter
Married authors Kimiko Hahn (author of ten books of poems, including Foreign Bodies) and Harold Schechter (author of true crime best sellers, including the award-winning graphic novel Did You Hear What Eddie Gein Done?) in conversation about keeping it creative at home.
All sessions by Harold Schechter