Biography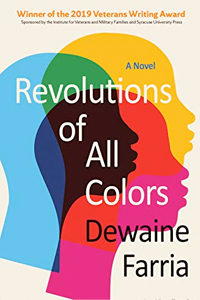 Dewaine Farria is the author of the novel Revolutions of All Colors, selected by Tobias Wolff as the winner of Syracuse University's 2019 Veteran's Writing contest. Dewaine's short stories and essays have appeared in Literary Hub, The New York Times, Rumpus, the Southern Humanities Review, CRAFT, War on the Rocks, Afropunk, and the anthology, Our Best War Stories: Prize-winning Poetry and Prose. As a U.S. Marine, Dewaine served in Jordan and Ukraine.
Website: https://www.dewainefarria.com
---
Battle Lines: How to Write a War Story
Acclaimed novelist/cartoonist Jeff Danziger, author of Lieutenant Dangerous, in conversation with Veteran's Writing Award winner Dewaine Farria, author of Revolutions of All Colors.
All sessions by Dewaine Farria