Biography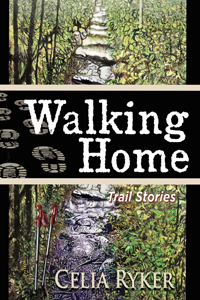 Celia Ryker has been a horse trainer, horticulturist, and hiker. Walking Home: Trail Stories is about hiking the Long Trail, a decision she made when she reached her sixtieth birthday. But Walking Home is about much more than mud, sweat, and blisters; it shares the stories, memories, and people who came to mind as her legs carried her up the mountains and across 273 miles of trail. Celia and her husband Don live between Vermont and Michigan with their border collie, Flurry.
Website: www.celiaryker.com
---
Event: The Hiking Gardner
Horse trainer and horticulturist Celia Ryker, author of Walking Home: Trail Stories, shares stories from hiking the Long Trail. Along with tales of the challenges of distance hiking, Celia mingles memories of scenic views, plants and flowers, and the wonders of nature every step of the way.