Biography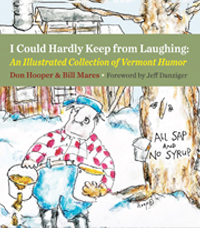 Bill Mares was raised in Texas, educated at Harvard, and has been a journalist, state legislator, and high school teacher. He has authored or co-authored 18 books on a variety of subjects including, the U.S. Marines, beekeeping, workplace democracy, and Vermont humor. He has been a beekeeper for 50 years and was the co-owner of a Vermont brewery. He lives in Burlington with his wife of 50 years, Chris Hadsel. They have two sons.
Website: https://www.vermonthumanities.org/bill-mares
---
Event: I Could Hardly Keep from Laughing
Cartoonist Don Hooper (former Vermont Secretary of State and, in kindergarten, the last to master coloring inside the lines) and author Bill Mares (former VPR commentator, state rep, teacher, and beekeeper) talk about their illustrated collection of Vermont humor.
All sessions by Bill Mares