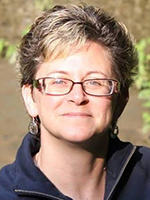 During the 150th anniversary of the St. Albans Raid, Vermont author and historian Michelle Arnosky Sherburne released her History Press book on the raid. Highlighting the little-known infamous Vermont Civil War event, Sherburne examines how the raid was one of numerous Confederate undercover missions conducted to undermine President Abraham Lincoln's government. Sherburne will share the planning, execution and repercussions of the 21 Confederate soldiers who raided the town and simultaneously robbed three banks.
Sherburne has been in the newspaper business for over 30 years. She is the production and marketing manager at the Journal Opinion in Bradford, VT. She has freelanced for magazines and newspapers and spent 25 plus years researching the Underground Railroad and the Civil War. Sherburne has published four books: Abolition and the Underground Railroad in Vermont; St. Albans Raid; Slavery and the Underground Railroad in New Hampshire; and the co-edited volume A Vermont Hill Town in the Civil War: Peacham's Story.
She travels around Vermont and New Hampshire giving history presentations to share that history happened right in our backyard.