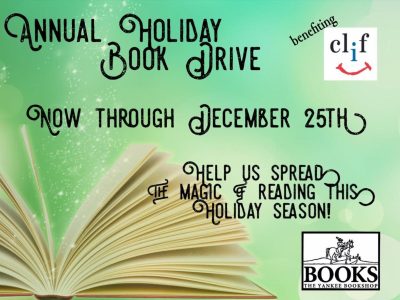 Give a Book to a Child! – Now Until December 25th
Once again Yankee Bookshop makes it easy to share the gift of reading with children through their partnership with the Children's Literacy Foundation AND YOU!
Each book you purchase for donation through Yankee Bookshop will receive a 20% discount – their way of saying thanks for helping them reach their goal of putting 300 books into the hands kids in Vermont & New Hampshire this holiday season. Please shop today.
If you can't make it into the bookstore to pick out a book in person, you can give a monetary donation through www.yankeebookshop.com.
THANK YOU!
---
And, for others on your list…
We turned to the experts – our friends, Kari and Kristian, at The Yankee Bookshop in Woodstock for some enticing gift recommendations for your holiday list. There's something for everyone here.
Recommendation #1:
How to Stay Alive in the Woods by Bradford Angier
Perfect for: That Outdoors-y Relative Who Probably Doesn't Read Much, But You Wish They Did
This perennial staff favorite is a book of practical advice and a good sense of humor all rolled up into one sturdily-bound package. It's smaller than most books, so it can easily be thrown into a backpack when preparing to head into the forest. This one is even good for the person who *thinks* they want to be out in nature more, but hasn't made it yet. And personally, we think it should be required reading for those who might want to apply for any survival reality tv show.
Recommendation #2:
The Moth Presents A Game of Storytelling
Perfect for: Someone Who Loves Stories And Doesn't Have a Lot of Time to Read Them
Kari says: I love the Moth Radio Hour, and the corresponding podcast, and the book that came out years ago: All These Wonders. The stories are true tales told by real people, and most are only a few pages long – because if you're familiar with the Moth you know that most of their stories (when told live) have a time limit of five minutes. This particular collection has a lot of uplifting stories in it, making it a great gift for just about anyone. And now there's a game! So this holiday season, you can break out this simple game of prompts to encourage Storytelling, also known as one of the best parts of being with your family!
Recommendation #3:
Fun Nonfiction Kids Books
Perfect for: That Younger Acquaintance, When You're Not Sure If They Like To Read, But You Want to Get Them A Book
This particular book (Everything Awesome About Sharks & Other Underwater Creatures) is a shop favorite, but we have a wide range of fun and entertaining nonfiction picture books for kids. Because what kid doesn't love being able to spout off weird facts to their family and friends? Find out one thing they're interested in and we probably have a beautiful book filled with facts about that topic, just waiting to be loved.
Recommendation #4:
Rolling Stone's 500 Greatest Albums of All Time and Our America by Ken Burns
Perfect for: History Lovers Who Won't Buy Nice Things for Themselves
Kristian says: These books are BEAUTIFUL. You can pour over them for hours, or open to any page and learn something new. The Rolling Stone volume offers album art, a synopsis, and facts for each of their 500 Greatest picks – a solid choice for anyone who enjoys popular music. And this newest Ken Burns book is a collection of his favorite photographs from all of his years of documentary filmmaking, piecing together a nearly 200-year history of America through images. Absolutely gorgeous.
Recommendation #5:
A New Record
Perfect for: That Music Lover (Who Might Also Be Getting A Beautiful Photo Book This Year…)
We're getting new albums almost daily – so yes, we probably do have the new Taylor Swift, or the Baz Luhrmann Elvis soundtrack, or whatever else you might be looking for. But we also have a lot of old favorites. Come in and browse – and reminisce – and find something perfect for the music lover in your life.