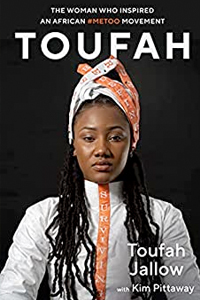 Meet Toufah Jallow – The Woman Who Inspired An African #MeToo Movement
Saturday 6/25 @ 11:15, Town Hall Theatre
TOUFAH JALLOW is the 25-year-old author of Toufah: The Woman Who Inspired an African #MeToo Movement. Her story helped bring the president of The Gambia to justice after 22 years in power. She also heads The Toufah Foundation in support of survivors of sexual assault in The Gambia.
Toufah spoke before the United Nations as part of a young people's forum on human rights…presented at the International Criminal Court at The Hague…and testified at The Gambia's Truth and Reconciliation Commission. She is a leader and advocate for survivors of sexual violence, especially in heavily patriarchal countries lacking resources, laws, and language to protect women.
Joining Toufah is CHIP FLEISCHER, co-founder & publisher of New Hampshire-based Steerforth Press who recently led the launch of a new line of books that focuses on Truth to Power.