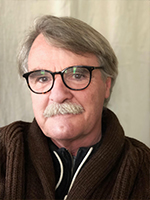 In 1957 David Macaulay and his family immigrated to the United States. Thirteen years later he graduated from RISD with a degree in architecture, but instead of making buildings, he explained them in books. Cathedral was published in 1973, followed by
City
,
Pyramid
,
Underground
, and
Castle
.
In 1988 he co-created
The Way Things Work
and in 1990 produced
Black and White
which won a Caldecott Medal.
In Crossing on Time: Steam Engines, Fast Ships, and a Journey to the New World, Macaulay details the planning and construction of the thousand-foot-long ocean liner SS United States. Known primarily for setting a dazzling speed record, it also delivered the Macaulay family to these shores. Along the way, we meet the ship's brilliant designer, William Francis Gibbs and finally spend a little time with a ten year old boy as he waits impatiently for his first glimpse of the Empire State Building.