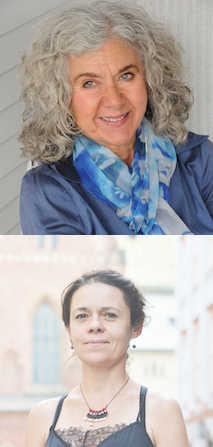 Cleopatra Mathis & Ewa Chrusciel
When: April 22, 07:00 PM Eastern Time (US and Canada)
Topic: Virtual Bookstock 2021 with Cleopatra Mathis & Ewa Chrusciel

In honor of National Poetry Month, Bookstock and the Norman Williams Public Library are pleased to present poets Cleopatra Mathis and Ewa Chrusciel who will read from their books, After the Body, and Of Annunciations.

ABOUT AFTER THE BODY
After the Body charts the depredations of an illness that seems intent on removing the body, piece by piece. Through close and relentless observation of her own physical being, Mathis shows us how miniscule ambition, planning, and a sense of control over our own bodies are—things we so blithely take as real and solid when healthy. Buy from the Yankee Bookshop 

ABOUT OF ANNUNCIATIONS
Chrusciel maps the biblical event of annunciation onto the current migration crises. Annunciation becomes a symbol of the "yes" that we utter in front of reality, particularly confronted with exiles, strangers―in other words, the other. The book quivers on the brink between openness to the other and the terror the other brings out in us. What does it mean to say "yes" to a stranger? What implications, threats, blessings and responsibilities do "yes" carry? Can we say "yes" to a dislocated soul in order to become more fully who we were meant to be? 
CLEOPATRA MATHIS
Cleopatra Mathis was born and raised in Ruston, Louisiana, and has lived in New England since 1980. She is the author of eight books of poems; the most recent is After the Body: Poems New and Selected, published by Sarabande Books in 2020. Her many awards and prizes include a Guggenheim Fellowship, two fellowships from the National Endowment for the Arts, and two Pushcart Prizes. Her poems have appeared widely in journals, magazines, and anthologies, including The New Yorker, Threepenny Review, The Georgia Review, The Southern Review, Ploughshares, Best American Poetry, and The Extraordinary Tide: Poetry by American Women. The founder of the creative writing program at Dartmouth College, where she taught from 1982-2016, she lives with her family in East Thetford, Vermont.
EWA CHRUSCIEL
Ewa Chrusciel is a bilingual poet and a translator. Her newest book in English "Of Annunciations" was released by Omnidawn Press in 2017. Her two previous books are Contraband of Hoopoe (Omnidawn Press, 2014) and Strata (Emergency Press, 2011), reprinted by Omnidawn in April 2018. She also published three books in Polish: Furkot (2001), Sopiłki (2009), and Tobołek (2016). Her second book in English Contraband of Hoopoe was translated into Italian by Anna Aresi and came out in 2019 with Ensemble Press in Florence, Italy. Her newest book, Mental Aviary, is scheduled for publication in 2022 by Omnidawn Press.