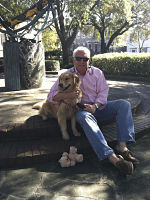 Join local author Christopher Dant reading from his new novel Rescue, which recounts the heartwarming story between a man and his dog that find salvation in one another. Set in Vermont, a war hero lives in his confined world of PTSD until the day he receives an extraordinary and memorable service dog who transforms him heart and soul. But one day, she vanishes, forging a two-year, thousand-mile dark and harrowing odyssey that both must endure. Hope grows from despair in this gripping yet charming story of a broken man and his beloved Golden Retriever that illustrates the resiliency and imagination of dogs, the remarkable bond they have with the disabled, and ultimately, the greatness that all dogs bring to our lives.
A top New York literary agency recently described Rescue as "beautifully atmospheric, elegantly written, at once painful yet hopeful…a touching edge-of-your-seat journey".
Christopher studied fiction at Stanford's Creative Writing Program and taught writing at Dartmouth College.