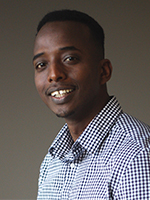 When the civil war in Somalia began, Abdi Nor Iftin was five; he attended a madrassa while providing for his family. Amidst the daily shelling and the famine, Abdi had one escape: American movies and music. He learned of America, and taught himself English, and began to dream of a life in the United States.
In Call Me American, Abdi recounts his harrowing, extraordinary, and uplifting story. His love of western culture and music earned him the name "Abdi American." This became a liability when Islamic extremism took hold of Somalia. Evading conscription by al-Shabaab while secretly filing stories for NPR under penalty of death, he stayed in Somalia until he had no choice but to flee to Kenya. And then, a stroke of incredible luck: he won the Diversity Visa Lottery.
Now a proud and legal resident of Maine and on the path to citizenship this year, Abdi will become one of us.