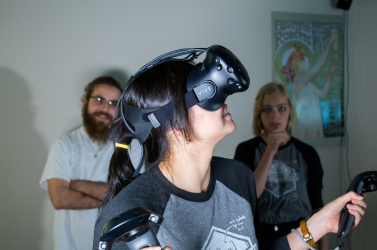 Imagine your amazement as you float through space and asteroids fly by you, creating bright colors in the starry sky, or the nostalgia of sitting in the passenger seat of a car as you watch a family grow up together, or even the tension of standing at the edge of a twenty story building in New York City. Take interaction a step further and stimulate your senses by unraveling a mystery while exploring an abandoned bar! [11:00-5:00 Saturday, On the Green]
All of this can manifest itself in the world of virtual reality(VR). Students and faculty from the award-winning Emergent Media Center (EMC) at Champlain College will demonstrate the excitement of VR technology and the latest iteration of their VR development project in a special exhibition tent from 11:00 – 5:00, Saturday the 29th on the Green.
Participants will have the opportunity to strap on a VR headset with built in lenses, enabling the user to enter 360 degree immersive environments. With the latest VR technology users are not only fully immersed in these virtual worlds, but also have the ability to physically interact with them!
Video screens will also be present in the tent, displaying what the user in the headset is experiencing in real time. EMC Staff with offer an introduction to VR and training lessons. Formal 20 – 30 minute presentations at 12:30 and 3:30.