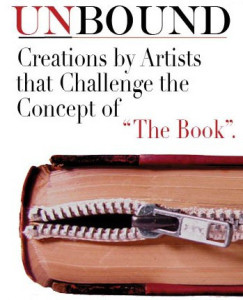 The 7th annual juried exhibit of Book Art by artists working in New England or New York, opens in tandem with Bookstock on Friday, July 28 at 5:30, at the ArtisTree Gallery in South Pomfret (about two miles north of Woodstock village).
Visitors will have an opportunity to examine curious folios, recent grimoires, tomes turned to sculpture and some works having a relation to "books" in concept only.
The theme of the show is simple: An exploration of what a book can be… art using books as a material or a format.
Art lovers and bibliophiles alike can expect to be intrigued and inspired by the work found on exhibit this summer in Unbound, vol. VII.