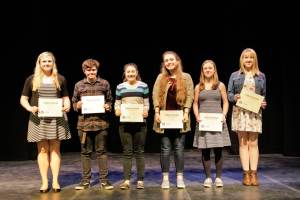 In collaboration with the Flynn Center and Vermont Stage Company, the Weston Playhouse hosts the Vermont Young Playwrights Project each winter in area high schools. A professional teaching artist guides high school students in writing their own original one-act plays over the course of six weeks. [1:00 Saturday, On the Green]While all participating students experience the pride of completing a play, six selected young playwrights see their work brought to life by experienced actors under professional direction on the Weston Playhouse Main Stage. This year students studied with professional writer Ashlin Halfnight (Netflix's Bloodlines) and the six plays chosen for the festival and read here are: "Just Fine" by Alexandria Pettit, Burr and Burton Academy; "Welcome to the Afterlife" by Ainsley Bertone, Springfield High School; "The Ventriloquist" by Marcus Allen, Springfield High School; "How to Write an Essay" by Gracie Smith, Arlington Memorial High School; "Trials and Tribulations of a Misunderstood Intern" by Sofie Pedemonti, Arlington Memorial High School; and "The Greenfield Ghosts" by Anna Hepler, Woodstock Union High School.
1) Welcome to the Afterlife… explores themes of life and death in a humorous and unique way
2) Trials and Tribulations… what would happen if you could change your life in just one meeting? This play explores choices and compromises we all make.
3) Ventriloquist: Deals uniquely and creatively with mental illness
4) Just Fine: Father and son bond over dreams lost and found
5) Greenfield Ghosts: Murder and mystery are woven together in a surprising way in this exciting and creative play
6) How to Write an Essay: explores the challenges of being a student in the age of social media with humor and surprise