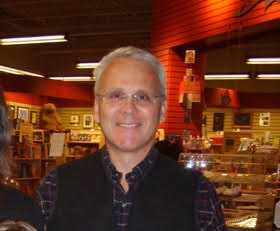 Michael DeSanto has enjoyed a rich and varied life. Including service in the U.S.Army, earning an MFA in Theater, working as an actor, and a career as a government affairs manager and lobbyist before ending up as a bookstore owner in Vermont in 1995 [12:00 Friday, St James Parish Hall] with the purchase of The Book Rack & Children's Pages, in Winooski, where he and his wife Renee Reiner invested nearly everything to own and operate it for eight years.
Now they own Phoenix Books. Phoenix consists of five stores located in Essex, Burlington, Rutland, Chester, and Woodstock. Each store is unique, independent and local and during his talk DeSanto will speak about the ways they were developed, opened, acquired, and operate.
In addition to a commentary on the Vermont business of indie bookstores surviving and thriving in the age of internet scamming, DeSanto will offer insights into the future of the book, bookstores, and even local economies in the age of amazon.
The author also enjoy questions and answers as well as give & take so there will be ample opportunity for audience interaction and participation.