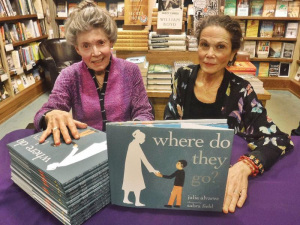 Alvarez and Field, both Vermont residents, have collaborated on a new picture book, 
Where Do They Go?
 The book has been described as a beautifully crafted poem for children of all ages who have ever wondered what happens to those they love after they die. [10:00 Saturday, Town Hall Theater]The author and artist, both Vermont residents, will read from and discuss their new book. Julia Alvarez, a novelist, poet, essayist, and recipient of the National Medal of the Arts, is considered one of the most prominent and widely read Latina writers of her time. Sabra Field, the quintessential artist of New England, creates immediately recognizable prints of brilliantly colored barns, churches, villages, farm fields, and seasons which have been widely collected and exhibited. Julia Alvarez's novel,
How the Garcia Girls Lost Their Accents, 
is the first novel by a Dominican-American woman to receive wide acclaim in the United States, selling over 250,000 copies. Sabra Field's images have appeared on wine labels, UNICEF cards, CD albums, opera posters, and most famously, on the 1987 Vermont bicentennial US Postal Service stamp which sold 60 million copies.