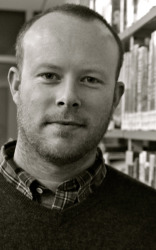 Jensen Beach
is the author of two story collections, most recently
Swallowed by the Cold.
[
Noon Saturday, Woodstock Inn Wilder Room]
The intricate, interlocking stories are set in a Swedish village on the Baltic Sea as well as in Stockholm over the course of two eventful years. Its people are besieged and haunted by disasters both personal and national, evoking their reticence but revealing deeper passions and intense longing. Jensen teaches at Johnson State College where he is the fiction editor at Green Mountains Review as well as a faculty member in the MFA Program in Writing & Publishing at Vermont College of Fine Arts. His writing has appeared recently in the Paris Review and The New Yorker. In this session Jensen will discuss how he came to write Swallowed by the Cold and how he has learned to find instruction not by reading endless craft books but in quiet observation of a day's routines.