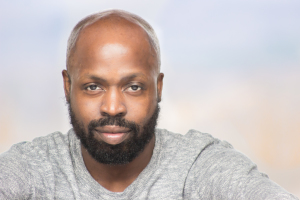 Jarvis Green, director JAG Productions, will be exploring race and heritage, bringing attention to the black experience in theater. [12:30 Sunday, Library Mezzanine]During two decades, starting in the 1980's, August Wilson wrote a cycle of 10 plays (The American Century Cycle) charting the African-American experience through the twentieth century with each play set in an iconic decade of American culture. When he began writing the cycle there wasn't anything else like it — not only in African-American theater but in American theater period. And though his characters may have a different social status, they can be found in the tragedies of ancient Greece, comedies of Shakespeare, and even grand opera.
In April JAG Productions staged Wilson's Pulitzer Prize winning play Fences as the inaugural presentation of our 10-year commitment to staging The American Century Cycle.
Jarvis Antonio Green is the Producing Artistic Director of JAG Productions. He's the Founder of BarnArts Center for the Arts and was responsible for conceiving & developing the theatre arts program at ArtisTree Community Arts Center.