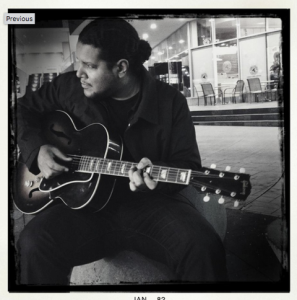 Chris Pierce is a singer, songwriter, guitar player, and a renowned harmonica virtuoso, who has appeared worldwide with major artists. As a musician, he also has an alter ego – the Reverend Tall Tree.  As Tall Tree, Pierce is a shouting, moaning, stomping, shuffling and hollering blues and American roots performer in the tradition of Little Walter, Howling Wolf and Bo Diddley. [7:30 Saturday, Town Hall Theater]
This year, Pierce's eclectic talents have led him to deliver a TED talk, titled The Healing Powers of Music. Also, the hit song he co-wrote, We Can Always Come Back to This, was featured on the television show, This is Us, and was rated as top 20 on Billboard Rock and R&B charts.
Pierce has released six independent albums worldwide. He has appeared, or opened, with a long list of musical greats: B.B.King, Al Green, Aaron Neville, Dr. John, Beth Hart, Sonia Dada, and many more. His voice and music have been heard in films and television shows, including Grey's Anatomy, Rosewood, In Plain Sight, Dawson's Creek, Brothers & Sisters, Army Wives and Crash.
Chris Pierce has written this about his art: Songwriting has given me a unique opportunity to be a lifelong student of human expression and emotion and it has helped me in good times and less fortunate times. It's a true blessing to be a conduit of musical healing to others. Songwriting has no known limits and music is here for all of us. Music represents emotional freedom.
Tickets for the Chris Pierce show can be obtained at Pentangle's website -www.pentanglearts.org-or by calling 457-3981. Tickets are $20, $15 for Pentangle members, and children 12 and under are freely admitted